Our ambassadors
Coming from varied backgrounds but gathered around the same passion, our ambassadors have agreed to make Roxy & Rich shine everywhere in the world!
I use only the best ingredients inside my cakes so I know they are something I can be proud of; why should the decoration be different? Roxy & Rich give me the numerous colours I need to ensure this happens!
Ben
the cake man
Ben has been baking ever since he was able to stand on a box and reach his nan's worktop in her kitchen. He made his first wedding cake for a family friend whilst he was still at school and, whilst continuing his passion for baking as a hobby alongside his studies in more traditional cheffing at the College of Food in Birmingham, excelled enough to launch a productive career which started in London, and has since taken him around the world working in some of the highest regarded Michelin starred kitchens, and subsequently alongside some of the world's best chefs. Whether preparing food for the public, aristocracy or wealthy families, Ben's passion for food has earned him a well-deserved reputation for excellence and this is evidenced by the array of prestigious awards – including British Young Chef for three years running – which now hang in his studio.
After many years, Ben decided to focus on his real dream: to establish a wedding cake-making business in the Midlands which would rival those better known in the Capital. His passion for is work, attention to detail and easy manner with clients have ensured high respect and influence which have been picked up by various media, to which he frequently contributes. He also works with some of the cake world's most popular brands, for whom he is proud to be an ambassador, and his expertise and input is also helping these sponsors to develop new products such as flavourings and icings.
Ben currently holds one of the enviable positions of Senior Judge at Cake international, the world's largest cake event and competition, and still manages to make over 100 wedding cake masterpieces each year, running his successful business single-handedly.
Creations
As soon as I used Roxy & Rich products, I fell in love! I had never found anything so efficient on the market in 11 years of experience. Highlighter Dust is definitely my favourite. There are few such shiny and edible metallic powders on the market. The FONDUST• came to revolutionize the world of cake design and the way I colour my sugar paste. I definitely have Roxy & Rich tattooed on my heart.
Sandra Major
Sandra is a cake design teacher, Youtuber, Blogger, Podcaster, and Mom.
In 2011 she made her first cake on a whim. She concocted her first sweet creation for her grandmother's 70th birthday and immediately fell in love with cake design. As a new mom, she needed an escape to find herself again. After a few years of making cakes for clients and family that she saw strong demand for tutorials, tips, and tricks.
She then embarked on her Youtube adventure and began to build a community that grew rapidly over the years. She shares her knowledge in cake design since 2015 on her French channel. Today, her community reaches more than 25,000 subscribers. The first version of her online school appeared soon after. A concept with more in-depth videos emerged in 2017. She teaches thousands of students worldwide on lesucreaufour.com and has a good reputation in her field in French.
Recognized artist, with 11 years of experience, she often makes appearances in renowned magazines, such as Cake Masters, and she stands out with her classes that are out of the ordinary. All her recipes are available on her blog, which receives more than 700,000 visits annually.
Creations
I have tried every dust on the market over my 7 years cookie decorating career. I have never used anything as amazing as Roxy & Rich! All of their products are superior above anything I have tried. Using products that are safe and edible provides me peace of mind. The colours are gorgeous, original, and easy to use. I am proud to support a Canadian company!
Mary Valentino
Emma is the name of her daughter and was her inspiration to pursue her passion for baking. She has always baked for family and friends but when her daughter showed some YouTube video on how to decorate with royal icing, she realized a whole new world existed beyond the realm of her basic banana bread and shortbread cookies.
She took the Wilton Cake Decorating Course at a local craft store in April 2013. While the focus was mainly on fondant and buttercream, there was some training on royal icing flowers. At this time, she had no idea that there was so much to create with royal icing! She then stumbled into the cookie world and discovered endless possibilities to channel her creativity. Being a mom of twins and running an online shop, she finds that life can get overwhelming.  Releasing her energy into creating beautiful cookies has become therapeutic and very self-rewarding.
Mary participated in Food Network's Christmas Cookie Challenge as the only Canadian in that episode. She also became the champion! She was then interviewed on the Ontario Morning Podcast with Wei Chan (CBC Radio One, CTV News, and in the local Bradford Newspaper). Some of her achievements include also several features in magazines such as Party Style Magazine, Cake Masters Magazine, Cake Central Magazine, and Mingle Magazine.
Mary clearly has a talent for teaching her techniques and propagating her passion for cookie decorating. Since 2014 she's been showcasing her different techniques on her YouTube channel, and she's also been teaching cookie decorating classes. She launched an amazing beginners' book in 2022 which covers all the important information to know to achieve wonderfully decorated cookies.
She is now an icon in the cookie decorating world.
Creations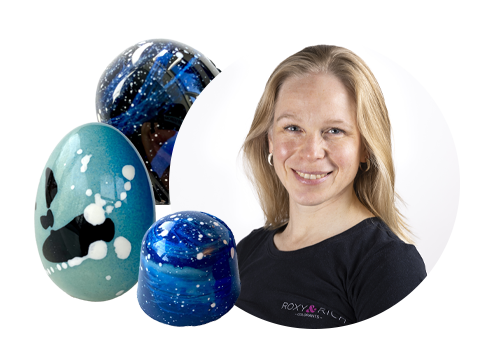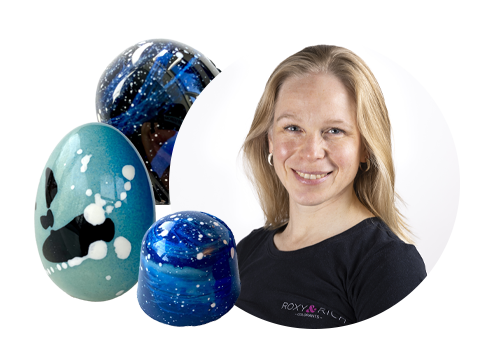 Roxy & Rich coloured cocoa butter collections are extremely beautiful, and so easy to work with. My favourite collection is the E171 free Gemstone Collection which consists of more than 50 amazing colours which all add sparkle and shine to my chocolate bonbons. The wide palette of awesome colours gives me endless opportunities to vary the expression of the finished bonbons. Since the colours are so wonderful to work with, at the same time, I truly enjoy the work process which is almost meditative to me.
Tine Forst
Tine is our first ambassador specializing in chocolate bonbons.
Although she graduated as a lawyer and that is what occupies her days, she finds the time to share her passion for chocolate on her Instagram account and in various Facebook groups. She has made a place for herself in this field and inspires an entire community daily.
Tine has trained over the years with readings on the subject but also with professional chocolatiers. But above all, it is the dozens (and dozens!) of hours spent in the kitchen that have contributed to her experience over the years. She does not hesitate to share her tips and recipes, whether on her Instagram account or in her e-book.
Creations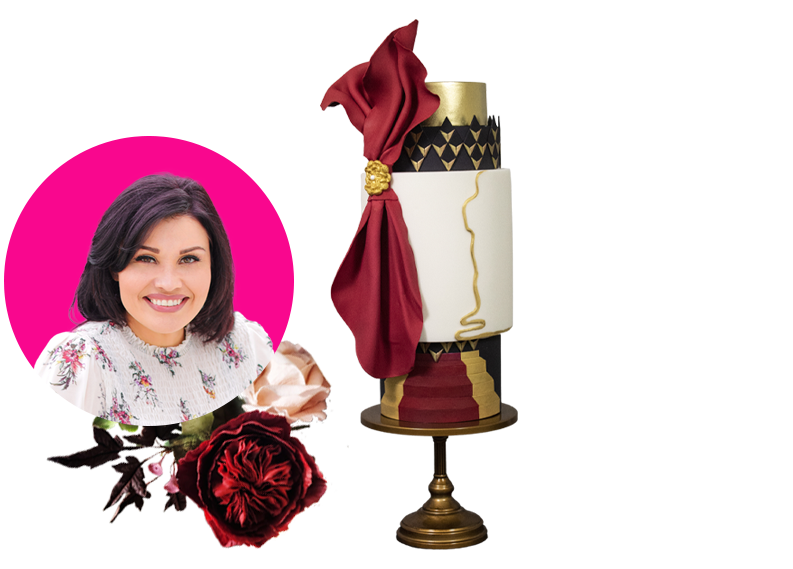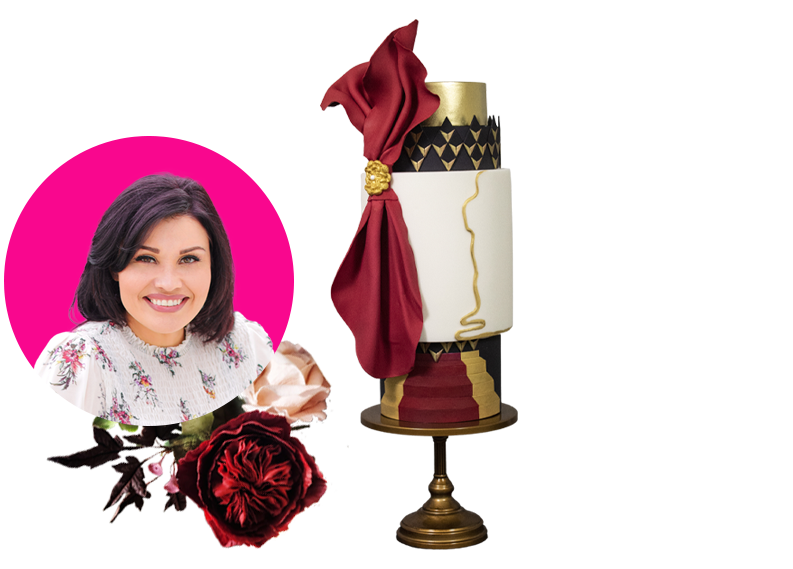 "Amo trabajar con los productos de Roxy and Rich" I can't say enough about the intense & unique colors of Roxy and Rich products. When Roxy and Rich came into my hands, I was surprised; it was unbelievable to work with FONDUST®️. The colors are highly concentrated and of high performance, meaning you can reach the desired color with a smaller amount of product. I achieved a range of colors making each of my creations look spectacular. When I started in the baking world, one of my passion was creating sugar flowers, and thanks to Roxy and Rich give them a realistic and unique look. Gold Highlighter Dust is a strong metallic finish, making my wedding cakes look so elegant.
Dessiree Salaverria
Dessiree Salaverria is the creative Cake Designer behind SugarDreams in Palm Bay, Florida. Originally from Venezuela, she came to the United States 16 years ago to fulfill her goal to become a computer engineer. Life had other plans for her. She discovered Zumba and became a Zumba instructor for 7 years until a personal injury ended her career. She then found her true passion in cake decorating and started Sugar Dreams in 2017.
Dessiree has been recognized for her cake designs, including being featured in Cake Masters Magazine, wedding magazines, and blogs in the USA, and nominated for "Rising Star" at the 2022 American Cake Awards. She has also participated in a TV show called "Is It Cake?" on Netflix which changed her life.
Dessiree loves to make unique and memorable cakes and is particularly proud of her realistic cake designs, such as a real-life guitar for a 91-year-old musician or a replica of a real-size ottoman for the ART BASEL expo in Miami. She is passionate about weddings, and she tailors every cake for the couples she works with. She has an attention to detail, and she particularly loves to make sugar flower creations. She values botanic accuracy and uses only edible flowers for her cakes.
Creations